Yay, the weekend is almost here, and thus the return of Rangers hockey. But before then, some random stuff to tide us over.
1 - The Rangers
resigned Hank
to a big deal,
six years at $6.5 mil a year
. I believe that makes him the third highest-paid goaltender in the league behind Roberto Luongo and Nikolai Khabibulin. Let's hope he plays more like the former than the latter. But now that the deal is done, I would say Al Montoya's bus ticket is pretty much stamped out of town. Let's just hope we can get the most out of dealing him ... Vinny Prospal is looking pretty damn good nowadays, and he wants to
shove things up his coach's butt
. Sounds like a love connection to me - Rangers and Prospal, not Prospal and Torts, this isn't that kind of blog.
2 - Jed got into a fight!!! Amid a terrible 6-1 Nashville loss to Chicago, Jed Ortmeyer, a
Scotty Hockey
favourite, fought rookie defenseman Cam Barker. Unfortunately, he
got his ass kicked
, but whatever, we still show the love.
3 - Let the
Chris Simon Murder Watch
begin! Simon the Barbarian has
returned to practice
so its only a matter of time before he kills someone on the ice. He is due to return to action next week vs. Tampa.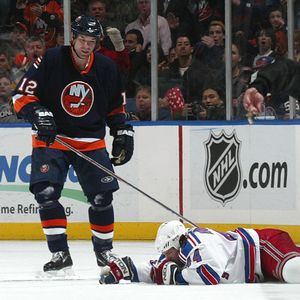 How much do you want to bet he ends up wearing a letter for the Isles too, perhaps the very game when he commits homicide! Wouldn't that be great press for the league? It would be just reward for the NHL's unwillingness to ban this animal from playing. Let me clarify, I don't want him to kill anyone, I just won't be surprised when he does. Fool me once, same on you. Fool me twice, shame on me. Fool me
seven times
shame on all of us. But at least the possibility of him going off will draw a few more people to the Mausoleum, Newsday is even
dogging the Isles for their attendance woes
.
4 - I just put Rod Brind'Amour on Team Canada and he blows out his knee and will be
gone for the year
. Nice. Kills my fantasy teams that count faceoffs ...
5 - It's
Hockey Weekend Across America!
Hope y'all celebrate in fun fashion; hope the Rangers celebrate with a pair of wins. Let's go Rangers!