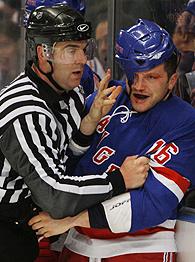 Well, despite the alleged idiotic mudslinging by Rangers General Manager Glen Sather, New York accepted the ruling of the arbitrator and will keep Sean Avery this season. Avery will get $1.9 mill in a one-year deal, 800,000 grand less than he wanted, and 600,000 more than Sather offered. While he still got a nice raise, Glen definitely caught him with a sucker punch in the arbitration hearings.
The ridiculous still-alleged comments calling Sean a "detriment to the team" when he was anything but just blows my mind. Yes he was a negative power under Andy Murray's regime in LA, but while in red, white and blue he appeared to mesh with his new teammates and do what he was told by the coaching staff. We will never really know how he was on the practice ice or the locker room but public comments made by Jagr and company were glowing throughout the playoff run, even when Avery was inciting the Sabres. If anyone knows how one negative person can effect a team, it would be Jagr since he personally destroyed the Washington Capitals with his bad attitude. Jags, like all of the Rangers faithful, seemed to enjoy watching Sean infuriate the opposition and do all of the hard battling that no one outside of Ryan Hollweg was willing to do.
So now we have Avery back and he has been insisting on his dedication despite Sather's rudeness so we should be able to see just what he has to offer. With it 90+ degrees out and camp still over a month away, one can only imagine how a line of Brendan Shanahan, Avery and Chris Drury will battle for the tough goals and play the north-south game that is so exciting (and wins championships). It is a sweet thought ... almost as sweet as Elisha's ***! Let's go Girl Next Door! I mean, Let's Go Rangers!